Celebrating the Christmas Season
Posted by : Karen
Wednesday, December 07, 2011
Well, now that the holidays are here, we're turning our eyes and hearts towards celebrating Christmas!

As I mentioned yesterday, sometimes I don't manage to fit in all the ideas I see and love into one season, so I roll them over to the next year. Last year a friend showed photos of her Jesse tree on her blog, and after reading a bit more about it, I fell in love with the idea and was hooked!

So, this year, we began!


some gold spray painted branches
in a marble sturdied tin!
And I am thrilled with the rapt attention all three of my children are paying each evening, after dinner when we read the Scriptures, talk about them and hang the little memento on the tree. Each evening we recap what has gone before, and there really is something to be said for the
strength of oral traditions
and
storytelling
- a lost art in our culture. Even Belle can tell us what each decoration represents.
Our printed cards come from
Ann Voskamp's
lovely Jesse tree( if you subscribe to her blog you can receive the link), but for my young children her devotions are too philospohical for my children (although I break down some of the nuggets for them). So this year I'm using a gathering from these sites:
This site has a whole list of the symbols and readings which can come in handy
Feels Like Home has written a guide to the Jesse tree for younger children, and my kids are always asking me as soon as we settle what song we'll be singing! We love her short choruses for the kids
And finally Christmas your Way has a printable blank ornaments for you to color in.
I've loved how different Jesse trees can look, and think I might just do a different Jesse tree each year!
My heart is really for Christmas to be significant in my children's lives beyond the commercialism of this holiday. Here are two other family devotions I've stumbled across recently:
The Reason for the Season - a lovely look at why we do everything...all pointing towards Christ
The Truth in the Tinsel - a dear friend just gave this to me today, and although I have only managed to skim through it as I write this it looks lovely - a craft a day along with truth, life and Christ!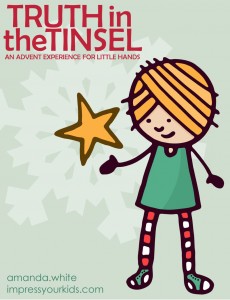 My prayer for you is that you too find a way to make this season significant - may Christ be revealed to you and your family...